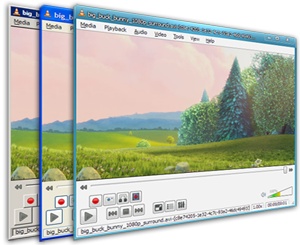 An universal media player that play anything, absolutely free. New version is compatible also with windows 7
VLC media player is a highly portable multimedia player supporting most audio and video formats (H.264, Ogg, DivX, MKV, TS, MPEG-2, mp3, MPEG-4, aac, ...) from files, physical media (DVDs, VCD, Audio-CD), TV capture cards and many network streaming protocols.
It can also convert media files, transcode and act as a streaming server over unicast or multicast and IPv4 or IPv6. It doesn't need any external codec, program or codec pack to work.
Features:
-Free and Open Source cross-platform media player
-Supports a large number of multimedia formats, without the need for additional codecs
-Features a complete streaming server, with extended features (video on demand, on the fly transcoding, ...)
-Simple, Powerful and Fast
-Plays everything, Files, Discs and Streams
-0 Spyware, Ads or User Tracking
-Media Converter and Streamer
Specifications
Plateform
- Windows
Developed by
- www.videolan.org
File name
- vlc-1.1.0-win32.exe
Version
- 1.1.0
File Size
:- 18MB
Language
:- English US
License
- free
Last Updated:- July 3, 2010
Link to download-
Need to download for Mac OS X,
Click Here
For Linux Based operating systems,
Click Here
By clicking on DOWNLOAD button, download process will start automatically. If you face any problem, you should try
publisher's page
.
You may also make donation for VLC (a non-profit organization) by
CLICKING HERE
.
---
---